We are committed to caring for our environment and ensuring that we keep our footprint as light as we can. We endeavour to both minimize the impact on our local environment and even contribute to it. We take these small steps in the belief that they will add up to a big difference. You can read more about our environmental policy below.
360s: a responsible choice to tackle emissions
We're fortunate to work in an industry that itself works to significantly reduce emissions and impact on the world. Many companies are commissioning 360s as a tool which will help avoid unnecessary staff travel or meetings.
One of the best-loved brands in retail commissioned us to create a project where virtual tours of a flagship store replaced a physical tour. Previously, over 400 employees would have been flown to the far east to look around the store. Clearly this has a big environmental impact through flights and local travel for all the people involved. Instead, we sent a single photographer to capture high resolution 360s. The interface we built allowed employees around the world to understand the brand guidelines by exploring the retail areas, zooming in to see the details, and clicking to read about each set-up in the store.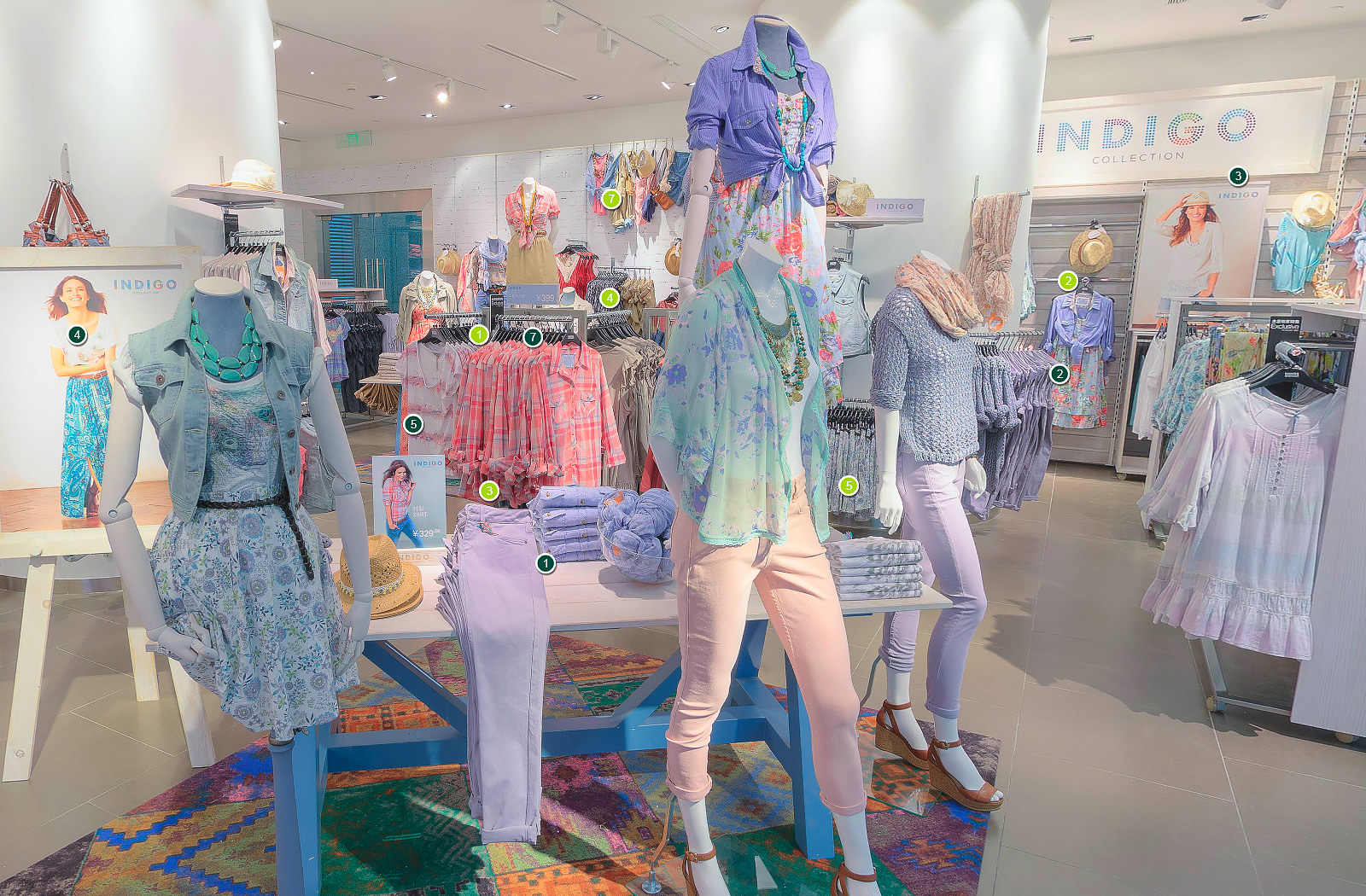 Taking an average long-haul return journey to China from Europe of 5 tonnes of CO2 (from London, it's closer to 7 tonnes), then imagine that times 400 – around 2000 tonnes on flights alone for employee visits to this one store. By sending a single Eye Revolution photographer to create a resource instead, the business is reducing their carbon emissions on a single project by 99.65%!
This is just one story of many that ilustrates how a virtual tour can help businesses reduce their carbon footprint by allowing customers or employees to view physical sites remotely, removing the need for travel entirely.
About our environmental policy
Reduce & Re-use
As a business, we do not generate much waste. However, where we do, we make every attempt to re-use and recycle.
We run a paperless office and only print documents if essential.
Scrap paper, packing materials and boxes are re-used or recycled.
Old business equipment such as furniture is either sold for re-use or passed on through 'freegle' or similar.
We use rechargeable batteries for much of our equipment.
We avoid disposable items and use recycled paper where possible.
Old camera, computer and electrical equipment which could still be useful to someone is often donated to people in need via local initiatives.
Travel & Emissions
The vehicles used for work meet the Euro 6 standard and have automatic stop/start to prevent idling in traffic. We also use public transport when possible.
Charitable work
At intervals we take on a charity and create a 360 resource for them at no cost or greatly reduced rates. They are able to use the virtual tours as a marketing tool and further content for their website, without having to fundraise to pay for it. This means that more funds can be channeled directly to the charity's recipients.
If you have any questions about our environmental policy or social policies, please don't hesitate to contact us.