We've recently completed a cockpit virtual tour for the RAF Museum in Hendon. The Miles M.12 Mohawk is part of the Milestones of Flight Exhibition which guides visitors through some of the key milestones in the history of aviation – focussing on the first 100 years of flight.
To give a little bit of background, the Miles M.12 Mohawk is a two-seater aeroplane which was commissioned by American aviator Charles Lindbergh in 1936. He wanted the aircraft for fast travel around Europe on business trips with his wife. The plane is predominantly wooden and the seat backs move – this feature was included to allow the cockpit to convert into a bed in case the Lindberghs found themselves in a remote area and needed to stay overnight.
Only one of these planes was ever made, and this was presented by Lindbergh to the British Government at the outbreak of war in 1939. It was used as a communications aircraft (though not extensively) and was then written off in a landing accident returning to Spain from a rally in 1949. After more than 20 years, the aircraft's remains were found, and were acquired by Mr. Louis (Lew) Casey of Charlottesville, Virginia (Curator of the National Air & Space Museum USA). In 2000 Mr Casey donated the aircraft to the RAF Museum and it was shipped to the UK where further restoration work was carried out before it was finally added to the Milestones of Flight collection in 2008.
The cockpit of these small aircraft are tricky to shoot as you're in a tiny space (the photographer on this shoot was over 6′ tall which makes it tricky!). It's vital to ensure that the shots are beautifully clean and clear so that visitors to the RAF Museum viewing the tours in the on-site kiosk can really feel as if they're inside the cockpit. The sky was carefully retouched in (along with all of the reflections) to give a more exciting feel to the virtual tour. We think the results do the aircraft justice – but please do explore the fullscreen virtual tour yourself. Click here to view the Miles Mohawk virtual tour.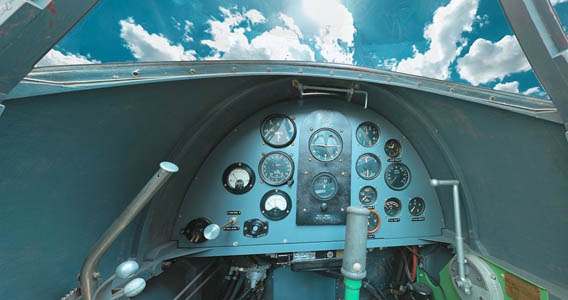 If you like this tour, you may also wish to view our Percival Mew Gull aeroplane cockpit virtual tour at the RAF Museum.