Celebrity Cruises
We were commissioned to create gigapixel 360s of several European cities. These were to be the centrepiece of a fiendishly difficult gigapixel treasure hunt campaign for Celebrity Cruises.
The aim was to have such high resolution 360 images that viewers could get lost in them whilst seeking out the code which allowed them to win the prize. The prize was highly desirable to cruise fans – a cruise for two on the brand new luxury liner Celebrity Apex. A new cruise liner on its maiden voyage.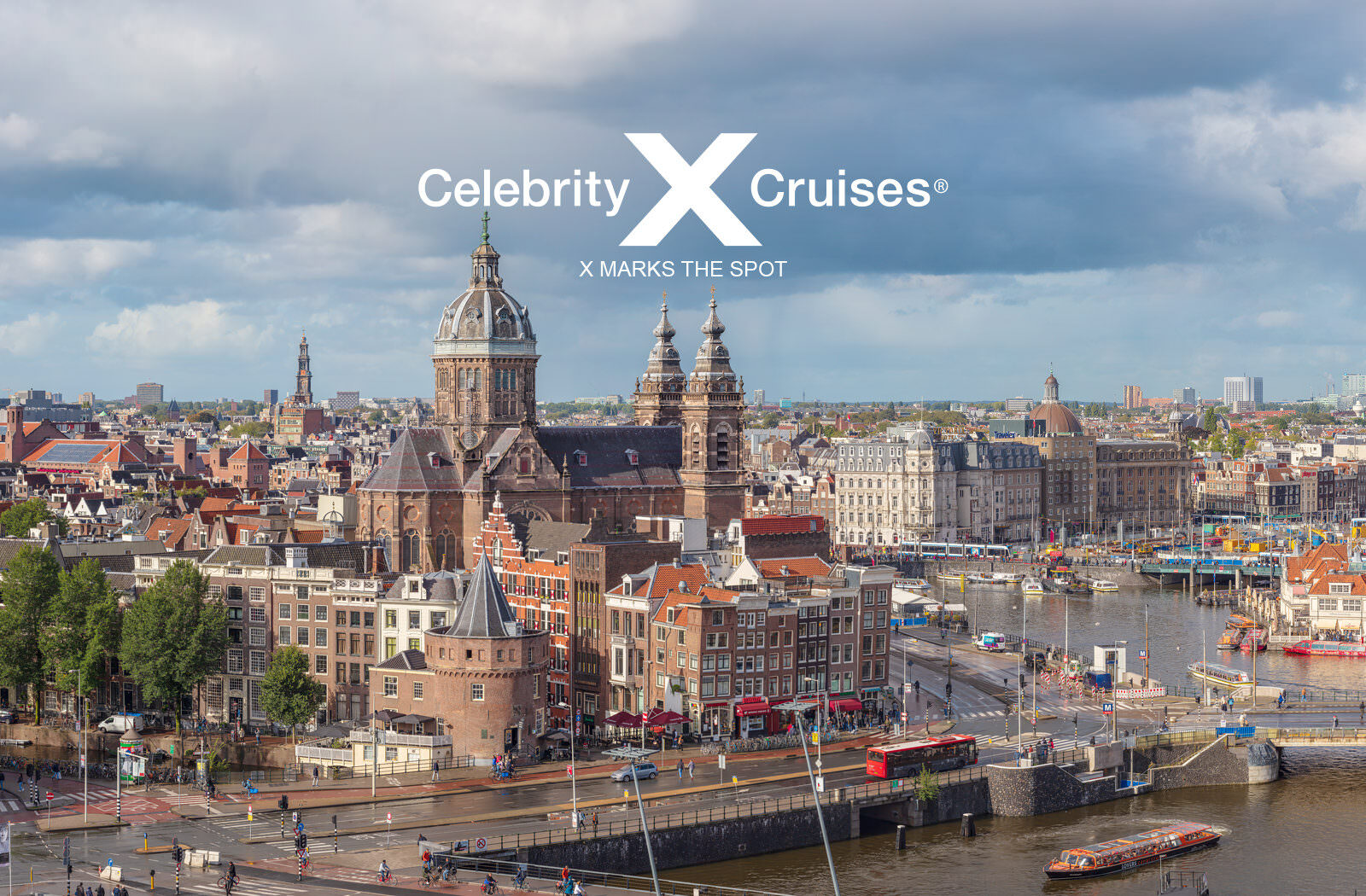 The shoot
We were to shoot in Bruges, Amsterdam, Berlin, Cophenhagen and Oslo. All are excursions that travellers on Celebrity Cruises can go on from the ship. The brief for the shoot was a very exciting one, but not without its challenges. Firstly, it had to take place in October, so there was not the luxury of reliable weather. We had to deal with grey skies, near constant rain and high winds through much of the schedule. Secondly, we had to find city locations where there was enough interest throughout the whole of the image, and where there was a high vantage point we could get permission to shoot from.
We were lucky to have a brave agency and client who trusted that we'd be able to achieve the results they needed. They agreed to a very flexible schedule. So, we only booked outward travel to the continent, and everything else had to move depending on the weather conditions. We travelled by train between countries, which is efficient, climate-friendly and most importantly – can be booked and changed very last minute!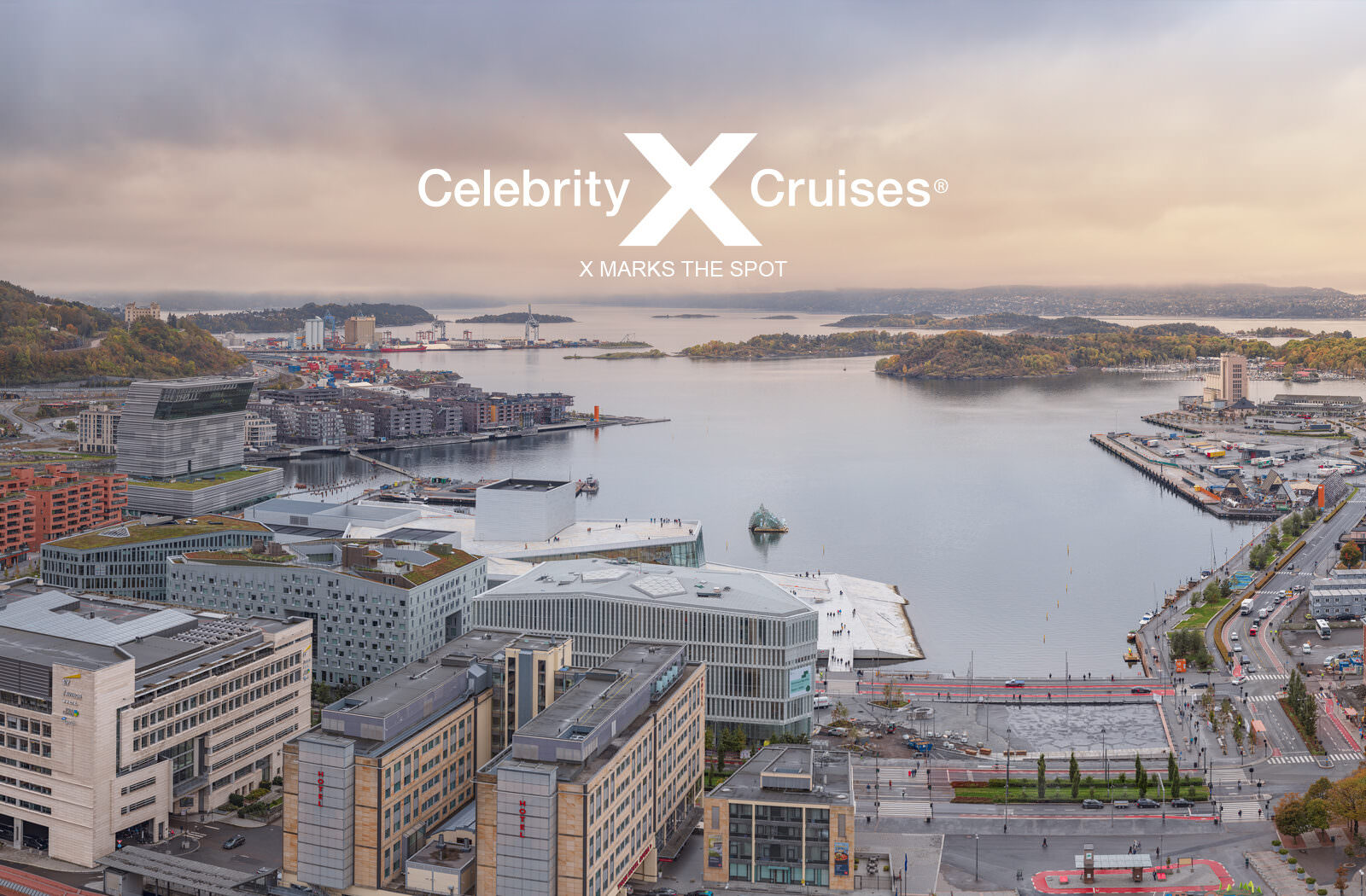 Thanks to our project manager back in our London studio, we were able to find and negotiate some really fantastic locations on the fly. As the schedule changed, we had to be dynamic and find new locations – again all undertaken by the project manager back in London while the photographer was travelling between locations. Having captured the footage, each evening and rainy day saw us back in the hotel room, checking the images and arranging post-production back in the UK. Oslo being furthest north was the trickiest location weather-wise, but we were lucky to score a great vantage point with views out over the opera house and fjords.
Post-production
Post-production on gigapixels is always a time-consuming process, but we had to shorten this as much as possible to meet a tight deadline. We had multiple operators working on the post-production to ensure we could turn the images around swiftly. Once this was complete, we were briefed to put in the codes. They really are diabolically tough to find, and the operator who added the codes was sworn to secrecy!
Treasure Hunt Goes Live
Press coverage in various national newspapers and websites generated great interest in the competition and drove traffic to the website.

Social media engagement
People were spending vast amounts of time on the Celebrity Cruises site seeking out the codes. Many took to social media, reporting spending days going through each image inch-by-inch.




In a world where people spend ever-smaller segments of time on any given media, it's very hard for companies to increase viewer engagement. We've all heard the stats of users spending mere seconds on website content, and even less for ads. Bucking this trend, fans were spending many hours on the Celebrity Cruises site, exposed to the Celebrity Cruises brand. Using the gigapixel treasure hunt mechanic Celebrity Cruises were able to start conversations with their fans all over social media.

Click the links below to see the Celebrity Cruises gigapixel treasure hunt images, and good luck finding the codes!
Click to find out more about what a gigapixel is, and how we create our gigapixel images.