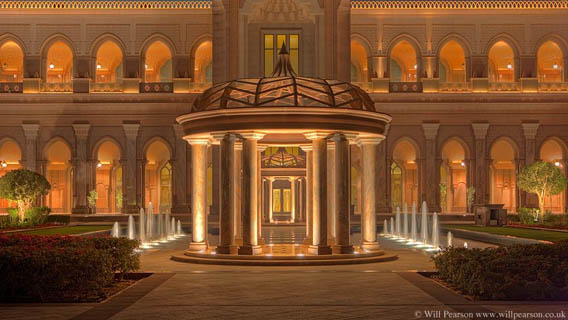 Click here for the Emirates Palace 360 virtual tour
20,000 people from 50 nations spent three years creating the Emirates Palace hotel in Abu Dhabi. Rumoured to have cost around £2 billion to build, it is the world's most expensive hotel.
The opulent surroundings feature 6000m² of 22 carat gold leaf; over 1,000 Swarovski crystal chandeliers (including some of the world's largest chandeliers) and the world's biggest dome, being higher than St. Peter's Basilica in Rome.
And in the background, humans and machinery labour to maintain the impression of luxury. So the 13 restaurants are serviced by not 13, but nearly 130 kitchens and over 300 kitchen staff from chefs to kitchen porters. These 300 are just a small proportion of the 2,600 staff – three to each guest, who take care of guests' every need. Including ferrying them around the massive landscaped gardens (over 1,000 acres) by golf cart. There are 140 elevators, so there can be no crowding, and you won't be tripping over other people's towels on the 1.3km private beach. And that's assuming you didn't reserve your sun lounger in advance.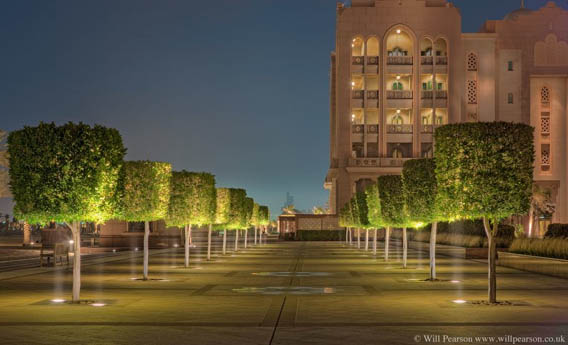 The decadence doesn't stop at the surroundings and service. Albino caviar is incredibly rare, with just 6kg available each year worldwide, costing £30,000 per kilo. The Emirates Palace gets 2 of these.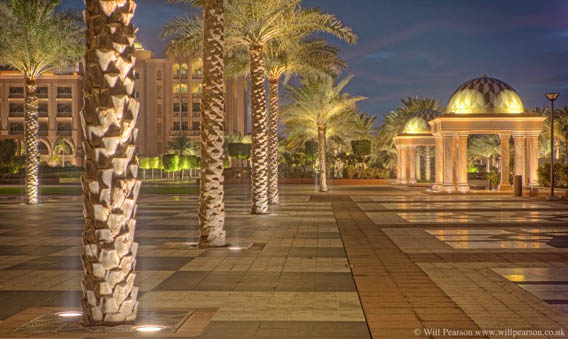 The rooms start at around £300 per night. But if you're genuine or at least Hollywood royalty, then there's always a rather special package, which will fly you and your guest here first class, give you somewhere to rest your weary head for 7 nights and chauffeur you around Abu Dhabi in a Maybach when you're not being pampered in the spa. To ensure you get value for your money, you'll also be offered a day trip to Iran in a private jet to create a Persian carpet, another to the Dead Sea in Jordan and a third to collect a pearl from the deep sea in Bahrain. If you've the time and the inclination, then you'll be able to fit in a 'Royal Golf experience' at Abu Dhabi Golf Club and a session where you make your own perfume. If this isn't enough, you'll also be lavished with rare pearls and gifts from Holland & Holland Sporting Guns (which usually have a 2-3 year waiting list!).
And the price tag to open sesame this week of luxury – $1,000,000 USD.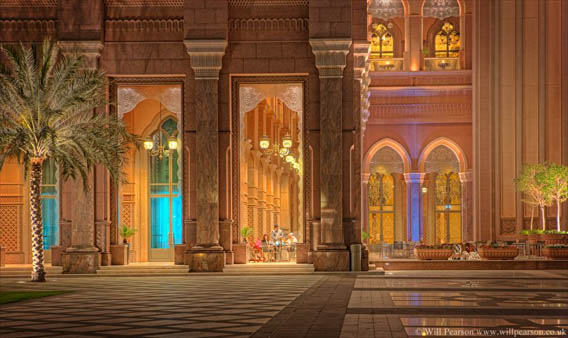 For those whose budgets don't quite run to this level, we're delighted to be able to offer a glimpse into the Emirates Palace with this virtual tour – click the link to view the Emirates Palace 360 virtual tour.